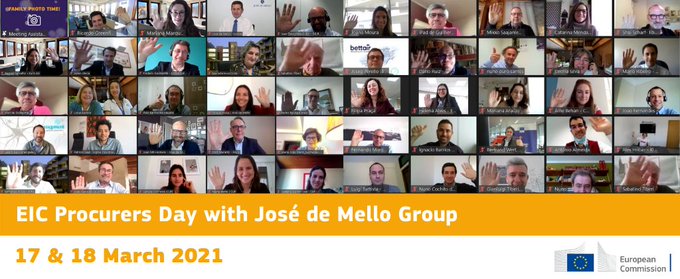 EIC PROCURERS DAY BY JOSÉ DE MELLO
On the 17th and 18th of March, José de Mello Group hosted an event dedicated to the European startup community in the areas of mobility, health and senior care, through a partnership with the European Innovation Council (EIC), European Commission's structure responsible for the promotion of innovation.
The EIC Procurers Day powered by José de Mello Group received 125 applications from 23 countries. The innovation teams of Brisa, CUF and José de Mello Residências e Serviços selected 37 applicants from 17 countries. For two days, these startups shared their solutions and ideas and participated in individual meetings with representatives from the three José de Mello Group companies.
Salvador de Mello, CEO at the José de Mello Group, considers that "Innovation is one of our values ​​and this initiative allows us to sustain, and strengthen, the José de Mello Group's commitment towards the growth and sustainable development of the communities where we operate. The synergies that emerge through these events promote knowledge transfer, contribute to the growth and development of startups, and to the introduction of innovative technologies in our businesses."