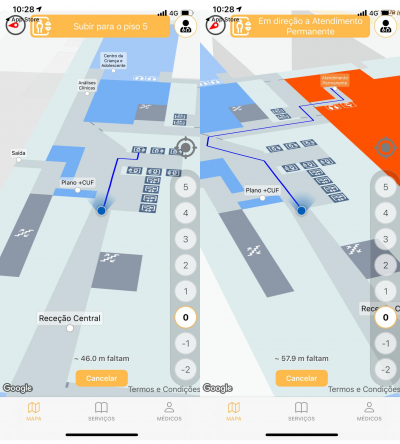 CUF TEJO NAVEGADOR – AN INDOOR NAVIGATION SOLUTION DEVELOPED BY BUZZSTREETS
Buzzstreets is a tech startup providing mapping, navigation and tracking of people and equipment in complex indoor structures. Through this navigation system, it offers an unparallel user experience, helping users navigate their way, whether on foot or in a vehicle, to a specific location within a building.

Marta Bento, Head of Strategic Planning and Innovation at CUF, referred that "with the opening of CUF Tejo Hospital, given its size, it became crucial to introduce an indoor navigation solution that would help mobility within the Hospital, and allow employees and customers to navigate independently. That was why we developed CUF Tejo Navegador in partnership with Buzzstreets".
The importance of this partnership was also highlighted by João Fernandes, CEO and Founder at Buzzstreets, who "developed a great partnership with the Grow team whose dedication and support were evident in all parts of the project. This collaboration allowed us to demonstrate the benefits of our technology and expand our network. It's an honor to be part of Grow's innovative projects".